William V. Delaney, M.D.
Undergraduate: Queen's University
Medical School: SUNY Upstate Medical University
Internship: St. Joseph's Hospital
Military Service: U.S. Army Medical Corps
Post Graduate Studies: Ophthalmology Residency, Ohio State University Biostatistics, Johns Hopkins University School of Hygiene & Public Health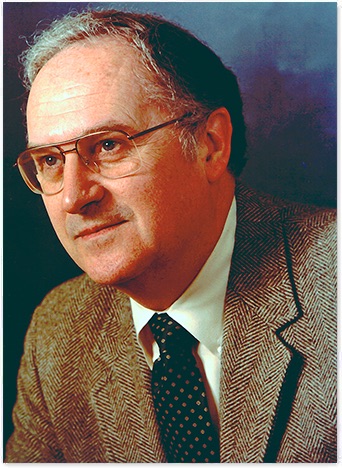 Photo Courtesy of Marc Safran
A native of northern New York, Dr. Delaney received his Bachelor of Arts degree from Queen's University in Kingston, Ontario in 1952 and graduated with a Doctor of Medicine degree from SUNY Upstate Medical University in 1956. He subsequently interned at St Joseph's Hospital in Syracuse. Fulfilling his military obligation, Dr. Delaney served in the U.S. Army Medical Corp, stationed in Bremerhaven, Germany from 1957 to 1959. Returning stateside, he completed an Ophthalmology Residency at Ohio State University where he had the privilege to study under William Havener, M.D., a forerunner in the fields of retinal detachment surgery, photocoagulation and vitreous surgery, and Torrance Makley M.D., an Armed Forces Institute of Pathology (AFIP) eye pathologist. These two physicians sparked his lifelong dedication to patients with vision-threatening diseases and injuries.
Dr. Delaney settled in Syracuse with his family in 1962. He started private practice as a general ophthalmologist and volunteered as a clinical instructor at SUNY Upstate Medical University. Finding limited eye pathology facilities at Upstate, Dr. Delaney obtained a National Center for Disease Control grant to enhance the medical center's ability. He studied the specimens, included the ophthalmology residents to strengthen their education, and reported the findings to area ophthalmologists. That laboratory is still in operation today.
Successful retinal surgery was a rarity in upstate New York at that time. By 1965 Dr. Delaney's practice was limited to retina and vitreous diseases and ocular trauma. He initiated a Retina Clinic at Upstate Medical University to facilitate teaching the ophthalmology residents about retinal diseases and treatment. When he found the medical students' education on eye diseases needed improvement, he offered to start a teaching program. It is still in use. The medical students' enthusiastic response to the course led Dr. Delaney to publish a photograph-illustrated book in 1982, Physicians' Guide to Oculosystemic Diseases. It assists family doctors, pediatricians, neurologists and internists in diagnosing or following ocular findings associated with diseases in elsewhere in the body. Over his career, Dr. Delaney authored or co-authored, twenty-seven peer-reviewed articles in the medical literature (four of which were with Dr. Torrisi and/or Dr. Hampton). In 1974, a group of generous patients and friends helped Dr. Delaney establish The Eye Research Foundation of Central NY to support eye disease research and training.
After 38 years of retina and vitreous surgery, Dr. Delaney retired in May 2000 to pursue his hobbies of photography, writing, hiking and gardening.
Dr. Delaney is proud of helping to bring state-of-the-art eye care to the people of central New York, and that Drs. Torrisi, Hampton, Spalding, Rutledge, Brown and Rosenberg settled here to continue that effort. They are dedicated to innovations and research to preserve vision and have surrounded themselves with a fine staff and a network of superb ophthalmologists throughout the country.